Hi everyone! My name is Laddie-Boy and this is MY page. Yep. That's right. My very own web page. And I'm sure you're all wondering what exactly a dog is doing with his own web site, right? Well I'm out here for several reasons. I'm here to help raise awareness with everyday dog owners about what it takes to raise a puppy the positive way, train with common sense and educate you good folks about what a collie is and what it takes to own one. A little presumptuous you think? Perhaps, but with over five million dogs euthanized yearly in United States animal shelters it certainly couldn't hurt to offer something that might actually save a life.

On the lighter side of life, I'll be sharing stories about myself, the family I live with and the job I share with my human mom. Yeah, I work. But you can read all about that on my personal page. Anyway, I hope you enjoy my site.



PLEASE SIGN MY GUEST BOOK.
I WON'T KNOW YOU WERE HERE UNLESS YOU SIGN MY GUEST BOOK.


UPDATES

5/1/2005

WOW!
Talk about busy!
Téa has added Herding Instinct Certified (HC) and Novice Courser (NC) titles to her name.
She's also started her show career with a 2 point win.


Meet my assistant! Web Mistress:
aka: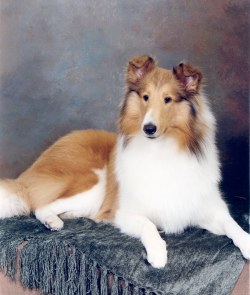 WHAT'S TO COME!

POTTY TRAINING YOUR COLLIE

THE OLDER COLLIE

QUESTION AND ANSWER

Have an idea for a page to add? Let me know. I'd be happy to discuss hosting information you may have about collies or a specific subject you are an expert in as long as it pertains to collies or the general dog and follows the positive reinforcement idea I'm trying to project. Click on "Contact Us".

Know someone who might be interested in checking this site out? Then pass it on and do your part to help educate the world!


This site and it's owner are not to be held responsible for any consequences from the use of the information on these pages. They are provided "as is" without express or implied warranty.