Laddie's World

LESSON 3

DO THE DOWN



So what's so difficult about doing the down command?
A LOT!
The down command can be one of the toughest commands for a dog to do for many reasons. Dominant dogs may not want to go down when asked because in their eyes going lower expresses a form of submission. If your dominant dog doesn't respect you and doesn't have a problem physically telling you so, you may need to consider getting outside help. Do not try to force a dominant dog into a down with physical force. He will only stand so much of this before he retaliates. A dominant dog may growl their displeasure as a warning for you to stop before they resort to biting.
Fearful dogs may view the down as a bad position to be in because they know that it puts them in danger of harder to defend attacks. When a dog is in a down position it takes a moment longer to get up and away. If they should be attacked in such a position by another dog, the attacking animal will have the advantage of height and balance to overpower a dog lying on the ground. A fearful dog would much rather be prepared to move at an instant's notice of a possible threat. Fearful dogs may not give you a warning before biting if they really don't want you pushing them into the down.
Confident dogs should have little trouble learning the command. Its once they learn it that they will often decide not to bother doing it because there's something more interesting to do.
Submissive dogs will need a very tender hand when learning this command. If you're too insistent with them in the learning stage they may shut down and think the down command is to much for them. Once they know it however, it may be common place for a very submissive dog to want to roll all the way onto its back!
Ready to give this try?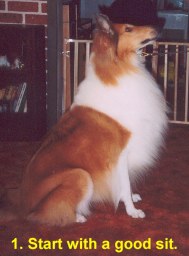 In the beginning, asking your dog to down from a sit position is usually easiest so we'll get his attention with his name and using your sit hand signal (and verbal command if you're up to that point) we'll get him into his sit. If he's still a little new with the sit give him his treat for that and then quickly get the next treat in your hand. If he is doing his sits very well then it won't be necessary to reward for every sit if you plan on doing the down right after it.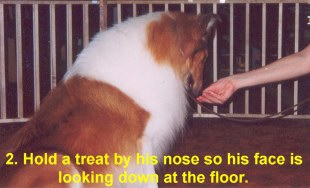 Put the treated hand right at his nose so his head and your palm are both facing down to the ground.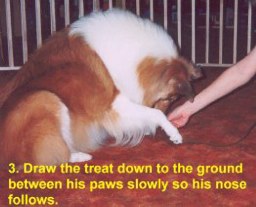 Now you'll begin to slowly draw the treat (and hopefully your dog's nose) down to the ground between his paws. Once there, you can try waiting a moment to see if he lays down on his own to be closer to the treat.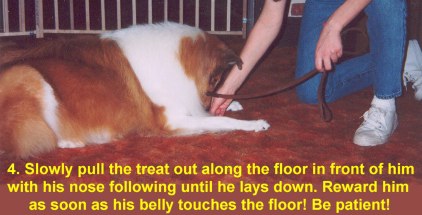 More commonly though, you'll begin to slowly draw the treat out and away from the dog along the ground. We want him to continue following the treat until he is lying down. No standing up! If he does stand up you may be pulling the treat away to quickly. Try it again and slow down. Be patient. If at first all you can get is him lowering his head than try praising that a few times before insisting that he go lower for the next treat. Also, look to make sure he's not playing hovercraft with his belly lifted off the floor slightly. Once your collie is all the way down praise and treat him and after a moment don't forget to release him from the position so you can try again. Try using the clap method from the sit page and/or a step away with your release word to get him moving.
Continue to practice as often as you can and remember to use your previously learned commands also. If he has a bad time doing the down use the other commands to end on a good note and try again later. Once he is going all the way down every time you do your hand signal, you can begin to add the down word. In time, you will fade out the use of the treats for every single down queue.
Work on "finishing" your hand signal after he has learned to down with the least bit of hand signaling or encouragement. Work on standing straighter, holding your hand higher and doing it with less motion. After all you don't want to have to bend over to his level all his life! After that you'll want to do it without the treat in your hand and reach for it from some other place like a treat pouch, container or if need be a pocket. At this point you'll want to begin tossing in those occasional "verbal queue only" down commands. Just as with the sit vary when you do it so the dog doesn't anticipate it. Once you've got the collie doing nice downs with little help and hand signals, you'll want to work on fading out the necessity of a sit command first all together. It may seem silly but you'll want to go back a few steps when beginning this. With your collie in a standing position just lure for the down with your hand signal and treat. Why do we go back and use this? Because we're asking him to down from a different position and in effect are almost teaching a new command. Don't worry... you won't have to do it very long. So you give the hand signal and then wait a moment. Let the wheels turn a little and see if he puts one and one together and assumes you mean the same thing as you when you did the same signal when he was in a sit. Most collies (and other dogs for that matter) get the hint pretty quickly and when they go down make a big fuss over them and reward them. Repeat that several times until it seems he's really got the idea and goes down quickly. Now you're ready to begin the previously mentioned "weaning" and "finishing" steps above. (If your collie has a bit of trouble getting it, just quickly give him a sit signal but as soon as his rear starts to go into a sit then turn your hand over and do your down signal. Reward him if he goes down and then work on less of the sit signal aid to get him down from that standing position.) It won't be long before your collie will down for you from either a standing position or sit.
I know it seems like a lot but don't despair! Most of the dogs that go through our classes can reach this step in about a week and a half! Well, with plenty of practice, but be patient. Remember that Rome wasn't built in a day and neither was the down!
Down tips...
1. If you have a dog that perpetually stands from the sit position when lured to down no matter how slow you go or how long you wait, re-command for the sit, try placing your left hand gently on the dog's rear end and then give the signal. Try not to push down if you feel him start to rise but keep steady. You only want the dog to know that you are there and he shouldn't stand up. If he goes a step further than he has before that, than give him his treat, praise him lavishly and try again. You can also try luring the treat in a slow arc along the ground to his side instead of in front.
2. If you're having difficulty standing up after having your dog lay down without him popping up quickly, try having several treats available in the other hand to begin. Signal/lure for the down and immediately reward for it. Now very quickly get and give him another treat. Wait a second then give another a treat. Basically as long as he will lay there and wait for the next treat you're on the right track. Build a little time between the treats and then begin working on raising your body up a little bit between each treat. Definitely take your time on that. If all you can do is maybe an inch between treats without your collie popping up than that's fine. Just keep working on it until you can stand all the way up and finish with bending over to treat several times before releasing your collie.
3. If while working on the above you find that your collie keeps nosing your hand for the treats and doesn't stop try quickly pulling your hand away by only a few inches. If he doesn't follow it (usually by crawling) praise and reward. If he does follow it move it away a little further again. If the dog stands or sits up at that point then start over from the beginning of the exercise.
4. Continue to work on and reward for the sit command individually on a very regular basis. We don't want a dog that automatically lays down after every sit command is given. That's anticipation and that can often times be a detriment to your control and his safety.
Good luck and I'll see you next time!