Laddie's World

My Personal Page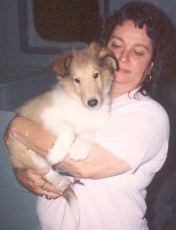 Well, here it is. All about me.
Name: Laddie-Boy, TT.,CGC.,CD.,TDI.,HC
Age: 12 years
Birthday: April. 20, 1994
Breed: Collie
Variety: Rough - Sable and White
Hobbies: Napping, playing and watching the world go by
Occupation: Obedience Instructor
Yes, I work. And I am an obedience instructor. Well actually, my human mom teaches the humans in the class, which after all is pretty much for them, while I help teach the dogs and puppies what body language signals mean. But I really do a whole lot more. I help canine fearful dogs develop confidence by lying quietly and ignoring their behavior until they settle and are ready to say hello. I give young puppies a safe opportunity to socialize with an adult dog that won't resort to biting when I am displeased with their exuberant antics. I show our store patrons how a dog can be a happy, friendly, outgoing dog but still maintain good behavior and respond quickly to my mom's spoken words.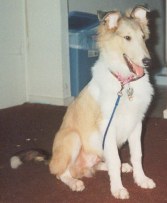 I even let my mom show customers how certain collars and harnesses should be put on and used even though I have never needed them.
And I may not be a candidate for the show ring but in an area where there are so few collies seen now-a-days, I give people a general idea of what my breed should look like and a very good idea of how wonderful a friend we can be.
For those of you familiar with collies, you might have already said to yourself, "Boy, he doesn't look very big. I thought they were supposed to be larger."
If I was completely from American lines I probably would be bigger. But I'm an English/American crossbred. My sire is American born and my dam was imported from England. I really got a lot from my mother. I have her lithe athletic build, longer thinner leg and lighter coat mass. Her family was used almost completely for herding and all of my brothers and sisters went to homes where they would be used for that same work.
Along with my pleasant and confident personality, I was chosen by my mom because my herding instinct was not as strong as my siblings and since I would be around a lot of kids, people, dogs and many small animals, it was important to her to have a puppy that didn't spend all of its free time chasing things. I have a couple of obedience titles and did some therapy work for a while. But as time passes, things change. After I was awarded my AKC Companion Dog (CD) title I had to retire from obedience trials. Not for lack of brain power for I am trained through to the Utility level in formal AKC obedience, but because of a slight back problem. I could jump four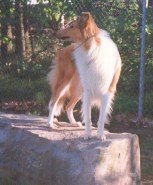 feet easily, but if I didn't land precisely right, a nerve in my back would become pinched between two vertebrae and I would become paralyzed until it is released. It doesn't usually take more than a couple of minutes and if my mom lifts me to my feet and helps me walk immediately, it clears up faster. Although I would jump the moon on command for her if I could, my mom says that she sees no reason to put me under any risk or danger just for a couple of letters after my name.
I did some therapy work for about a year and while it was more often than not a fun thing to do, there were those days when a friend would no longer be there. Whenever I noticed an empty bed everyone would try to tell me that they might be back next time. But I knew those missing friends weren't coming back.
And during all of this, my mom and I have moved twice, added a husband, lost a best friend, gained two children and graduated over 1000 dogs and puppies from our training classes. And that's were I'm at now. Just chillin' out and taking it as it comes along. I wish everyone had it this nice.